Corinne Benakis – Microbiome–gut–brain interactions

---
The gut microbiome has been reproducibly demonstrated to play a pivotal role in brain health and brain disease. Recent experimental and clinical studies suggest that stroke outcome is substantially impacted by the composition of the gut microbiome, which acts as a key modulator of immunity and metabolism (Benakis et al., Curr. Opin. Neurobiol. 2020; Benakis et al., Nat. Med. 2016). The research focus of our lab is to understand the bidirectional link between the gut microbiome and the brain after stroke. This research paradigm will enable the development of novel therapeutic strategies to improve recovery in stroke patients.
Gut-to-brain communication may occur via the production of metabolites from gut-resident bacteria. Indeed, there is accumulating evidence showing that metabolites derived from the microbiome influence brain diseases by regulating intestinal immune-cell function. The key objective of our research group is to investigate whether metabolites produced by gut bacteria can influence stroke-induced neuroinflammation, as well as post-stroke comorbidities such as chronic neuroinflammation, cognitive decline, depression, and pain.
To reach this goal, we use a combination of metabolomics, metagenomics, flow cytometry analysis, single-cell sorting, and in-vitro immune cell culture, as well as mouse models (photo-convertible transgenic mice, humanized-fecal microbiota transplantation mice, probiotics/postbiotics) to elucidate the mechanisms involved in microbiome-gut-brain interactions.
Contact:
Corinne Benakis
Phone: +49 89 4400 46205
E-Mail: Corinne.Benakis@med.uni-muenchen.de
Image credit: Dr. Stefan Roth
Are you passionate about the surprising world of gut-brain communication? The Benakis team is thrilled to announce their hands-on course that will give you the basic tools to get started on the microbiome and its involvement in neurological diseases.
​Description of the course:
This course provides an interactive theoretical and practical insight in the microbiome field of the gut-brain axis. Students will learn theoretical aspects of the analysis of microbiome composition, gut immune cells and their implication in stroke pathobiology. Bioinformatic tools, immune cell isolation and flow cytometry will be introduced theoretically and later on, used hands-on at the bench.
Duration:
The duration of the student course is one week, half a day interactive lectures and half a day hands-on bench and computer work. No special qualifications in bioinformatics are required. Wet lab experience is beneficial but not mandatory.
Target public:
Master and PhD students


---
Corinne Benakis, Principal Investigator
I received my master's in Biochemistry from the University of Geneva, Switzerland. I then moved to Australia for a master's program at Queensland University, where I first became interested in the molecular basis of neuronal communication. In 2011, I earned my PhD in Neuroscience from the University of Lausanne under the supervision of Dr. Lorenz Hirt, Professor of Neurology. I specifically studied the role of a neuroprotective compound – a JNK inhibitor – on microglia activation and peripheral inflammation after stroke. I then joined the laboratory of Prof. Costantino Iadecola at Weill Cornell Medical College in New York as a postdoctoral fellow –funded by the Swiss National Research Foundation – where my work highlighted for the first time the role of gut microbiota and intestinal immune cells in stroke. In July 2016, I joined the laboratory of Dr. Arthur Liesz at the Institute for Stroke and Dementia Research (ISD) in Munich, with a Marie-Curie Sklodowska-Curie European fellowship to develop my own research topic on the specific role of gut metabolites, specifically tryptophan metabolites, in immune cell polarization in the context of brain injury. In April 2020, I founded my own research group at the ISD – with a DFG grant – investigating the critical role of the gut microbiome in stroke. I have a passion for communicating science using powerful visuals, and in my free time I like nothing better than to travel the world in search of new culinary experiences.
Rosa Delgado, PhD Candidate
After finishing my Bachelor's degree in Pharmacy in Madrid, I discovered the fascinating world of neuroscience while doing an internship in the laboratory of Dr. Emery Brown in Boston. For my master's thesis, I investigated the communication between vasculature and neurogenesis under the supervision of Dr. Carmen Ruiz de Almodóvar. I am currently a PhD candidate in the lab of Dr. Benakis, where I am studying the role of gut microbiota-derived metabolites on chronic inflammation after stroke. If you don't see me in the lab, I'm probably outside in the fresh air, doing sports, or traveling around Europe!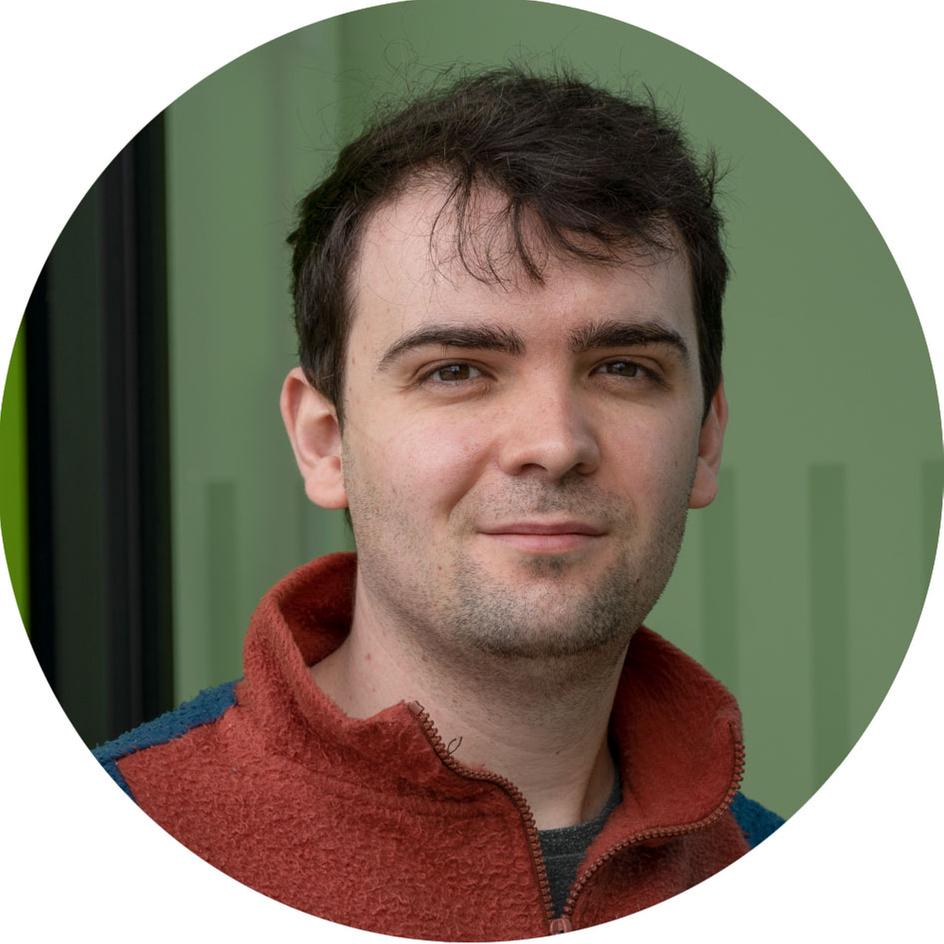 Adam Sorbie, Research associate
I received my Master's degree in Infection Biology from the University of Glasgow in 2016. During this time, I developed a keen interest in microbiota research which led me to pursue a PhD in the laboratory of Professor Dirk Haller, studying the role of the microbiota and metabolome in colorectal cancer. Despite my background as a wet-lab biologist, I developed a passion for computational biology while working on my PhD. My current research interests reflect this and are centred around the interactions of microbiota and host metabolites and their influence on disease. I am also interested how we can integrate different data types and spatiotemporal sampling designs to better understand these interactions. In 2021, I joined the Benakis lab where I will utilise bioinformatic and machine learning tools to investigate and characterise microbes and metabolites modulating stroke outcome. Outside of the lab, I enjoy cooking, travelling and playing guitar.
Monica Weiler, Lab Technician
I was born in Romania, where I studied biology and worked as a teacher for several years. Once I came to Germany, I became interested in lab work, so I trained as a lab technician and received my PhD in Immunology from LMU Munich. I support the lab members during various daily experiments and by taking care of orders and other organizational issues. Outside the lab, I love to cook with friends, read a good book, take a walk outside or travel and discover new and interesting places.
Past members
Dr. Laura Díaz
Isha Yogesh, MSc. Student
Rebecca Sadler, Postdoc (2019-2020)
Diana Fink, Master's student
Alexander Beer, Intern
---
Corinne Benakis, Principal investigator
My research interest focuses on understanding the role of the microbiome in stroke, with a focus on intestinal immune function and microbial metabolites.
I am fascinated by the interaction of these two highly complex super-organisms: the gut microbiome and the brain, particularly how commensal bacteria regulate the immune response and influence stroke outcome. I believe that a better understanding of how the gut interacts with the brain may provide new therapeutic avenues to protect the brain after stroke.
The scientific goal of my lab is to better understand how the gut microbiome may influence stroke outcome and post-stroke comorbidities, including motor dysfunction, chronic pain such as visceral pain, cognitive decline and depression which impair critically the quality of life. Modulation of the microbiome – specially microbial metabolites – by dietary interventions may have strong therapeutic implications in stroke.
Current academic positions
2020-now Independent group leader, Institute for Stroke and Dementia (ISD), Ludwig Maximilians-University of Munich (LMU), Germany
2016-2020 Postdoctoral Research Fellow, Marie Sklodowska-Curie European Fellowship, Laboratory of Dr. Liesz, Institute for Stroke and Dementia Research, Ludwig-Maximilians University, Germany
2012-2016 Postdoctoral Research Fellow, Swiss National Science Foundation Fellowship, Laboratory of Prof. Iadecola and Prof. Anrather, Brain and Mind Research Institute, Weill Cornell Medicine, New York, USA
2007-2011 PhD in Neuroscience, Laboratory of Prof. Hirt, Department of Fundamental Neurosciences, Faculty of Biology and Medicine, Switzerland
2006-2007 Master internship in Neuroscience, Laboratory of Prof. Meunier, Queensland Brain Institute, University of Queensland, Australia
1999-2005 Master in Biochemistry, Faculty of Science, University of Geneva, Switzerland
Funding
2019-2022: German Research Foundation Project Grant (DFG)
2017-2019: Marie Sklodowska-Curie European Individual Fellowship
2012-2015: Swiss National Science Foundation Individual Fellowship
2010: Academic Society of Vaud Doctoral Individual Fellowship
2006: University of Geneva Master Mobility Scholarship
Honors & Awards
2020: SyNergy postdoc award
2020-2021: ImmunoStroke postdoc female award
2017-2019: SyNergy travel grant
2016: SfN Trainee Professional Development Award
2011: PhD Excellence Prize, Amicitia foundation
2010-2011: Best Didactic Poster Award, Faculty of Biology and Medicine, Lausanne, Switzerland
2010: Swiss Society for Neuroscience travel fellowship
2009: Swiss Neuroscience Doctoral School travel grant