Dominik Paquet – iPSC-models of brain diseases
The PaquetLab aims to build human tissue models recapitulating major brain diseases. To establish these models, we apply and combine cutting-edge technologies, such as CRISPR/Cas genome editing, induced pluripotent stem cells (iPSCs), differentiation of iPSCs into human brain cells, and brain tissue engineering. Using these models, we want to understand the molecular and cellular mechanisms leading to nerve cell damage and death, and subsequent cognitive decline in patients with neuropsychiatric disorders, such as Alzheimer's disease and frontotemporal dementia, and neurovascular impairments including stroke and vascular cognitive impairment.
Due to the inaccessibility of human brain cells for molecular research, neurodegenerative diseases have mostly been studied in animal and simple cellular models. These have significantly broadened our knowledge, but due to their drawbacks also limit successful translational research. We address this gap by developing human disease models using a powerful combination of CRISPR genome editing – which allows altering most genes in the human genome – and iPSC technology – which allows generating and studying somatic brain cells in the laboratory that are directly affected by disease. The disease-relevant cell types we study include neurons, astrocytes, microglia, oligodendrocytes, smooth muscle cells and endothelial cells, and the research projects in our lab focus on three major areas:
CRISPR genome editing in iPSCs
We believe that efficient and reliable genetic access to the patient cells we study is crucial to investigate the role of disease-associated genes, genetic variations such as SNPs, and to induce or modify disease symptoms in our models. In a set of fundamental studies (Paquet et al. Nature 2016; Kwart et al. Nat Prot 2017; Kwart et al. Neuron 2019) we revealed simple principles of efficient CRISPR/Cas9 genome editing in human iPSCs. We also demonstrated the potential of studying Alzheimer's disease-causing mutations in isogenic sets of CRISPR-edited, iPSC-derived human cortical neurons. Recent work in our lab focused on improving the reliability and specificity of the CRISPR system e.g., by revealing frequent on-target effects in human iPSCs after editing and providing the field with simple detection tools to characterize and avoid these deleterious consequences of CRISPR genome editing (Weisheit et al. Cell Reports 2020).
Taming widespread collateral damage of CRISPR editing
CRISPR-Cas9 has revolutionized disease-research, as it greatly simplifies targeted genome editing. However, CRISPR systems are not entirely accurate and can introduce potentially harmful additional mutations, called on-target effects. In a collaborative study with the DichgansLab, the PaquetLab identified widespread prevalence of on-target effects in clinically relevant CRISPR-edited iPS cells and describes broadly applicable tools to detect these unintended alterations. The new method improves the reliability of CRISPR editing. [read more...]
Brain cell differentiation from iPSCs and brain tissue engineering to study neurodegenerative diseases
Recent work in the field has indicated that major aspects of the complex pathological processes underlying human neurodegenerative disease depend on the interplay between multiple cell types, such as neurons, microglia, astrocytes and oligodendrocytes. We therefore believe that optimal investigation of such disease processes will not only require human cells, but also complex, 3-dimensional tissue models containing the major disease-relevant cell types. In a recent review article, we discussed the current status of the field and strategies to design the next generation of iPSC-based models of brain diseases (Klimmt*, Dannert*, Paquet, Curr Opin Neurobiol 2020). A major focus of our lab is therefore to establish technologies for the optimized differentiation of all major brain cell types relevant for neurodegenerative disease, and to combine them in a 3-dimensional human brain tissue model. In this model, we aim to elicit and study disease phenotypes and investigate underlying pathomechanisms. In addition, because such models are accessible for genetic manipulation and amenable to drug development, we plan to apply them for translational studies to accelerate the identification of novel therapeutic approaches and targets.
Human models of brain vessels to investigate the biology of the blood-brain-barrier and mechanisms of neurovascular disease
Increasing evidence points to a major role of brain vasculature not only in neurovascular diseases, such as stroke, small vessel disease, etc., but also in a broad group of other brain diseases including Alzheimer's. At the same time, genetic studies from our institute and others revealed many genetic loci associated with neurovascular impairment in patients. Using the above-mentioned combination of CRISPR editing and iPSC-based tissue engineering, we are setting up modular systems of human brain vessels that allow investigating mechanisms of human neurovascular disorders and the underlying genetic causes and associations.
Contact:
Dominik Paquet
Professor of Neurobiology
Institute for Stroke and Dementia Research (ISD), University Hospital, LMU Munich
Room 8G 02 144
Feodor-Lynen-Straße 17
D-81377 Munich, Germany
Phone: +49 89 4400 46123
E-Mail: dominik.paquet@med.uni-muenchen.de
Dominik Paquet, Principal investigator
Dominik established the PaquetLab at ISD in 2017, after he was appointed Professor for Neurobiology at LMU Munich and became a member of the Munich Cluster for Systems Neurology (SyNergy). He received his BSc and MSc from the Eberhard-Karls-University Tübingen, Germany. During his MSc Dominik worked with Henry Roehl at the MRC Centre for Developmental Genetics in Sheffield, UK. For his PhD, Dominik developed the first Tau-transgenic zebrafish model to study mechanisms of Tau-related neurodegeneration with Christian Haass at LMU Munich. After working with Thomas Misgeld at TU Munich for 2 years on in vivo imaging to study mitochondrial transport defects in neurodegenerative diseases, Dominik joined the lab of Marc Tessier-Lavigne at The Rockefeller University in NYC as a New York Stem Cell Foundation Druckenmiller Fellow. There, he pioneered the use of CRISPR/Cas9 gene editing in induced pluripotent stem cells to study diseases of the human brain.
E-Mail: Dominik.Paquet@med.uni-muenchen.de
Phone: +49 89 4400 46123
Julien Klimmt, GSN graduate student
Julien was born and raised in Chemnitz, Germany. He received his BSc in Human Biology from the University of Greifswald in 2014 and a MSc in Molecular Biosciences with a major in neurosciences at the University of Heidelberg. During his Master's he worked at Harvard Medical School with Dr. Matthew J. LaVoie on the cytosolic function of Parkin. In 2017 he finished his Master's degree working on epigenetic mechanisms in memory formation and then joined the PaquetLab as a graduate student. He is now working on complex cell culture systems using CRISPR/Cas9-edited, iPSC-derived brain cells to model AD.
E-Mail: Julien.Klimmt@med.uni-muenchen.de
Phone: +49 89 4400 46223
Dennis Crusius, BTA
Dennis is from Munich, where he also obtained his BTA degree. He joined the PaquetLab as a research assistant in November 2017 and is involved in several projects from stem cell differentiation to CRISPR/Cas9 genome editing. He also contributes to a functional lab environment and supports the entire team in multiple ways.
E-Mail: Dennis.Crusius@med.uni-muenchen.de
Phone: +49 89 4400 46224
Angelika Dannert, GSN graduate student
Angelika grew up near Ulm in Germany. She studied Molecular Medicine and obtained her BSc from the University of Tübingen, and her MSc from the University of Göttingen, Germany. During her studies she did international research internships at Free University Amsterdam, University of Zürich, and Stanford University. During her master's she worked on iPSC-based models of depression followed by her thesis on prevention of vascular stiffening. She joined the PaquetLab in December 2018 and is working on the development of complex in vitro models of FTD using CRISPR/Cas9-edited iPSC-derived brain cells.
E-Mail: Angelika.Dannert@med.uni-muenchen.de
Phone: +49 89 4400 46223
Judit Gonzalez Gallego, GSN graduate student, collaboration with Dichgans Lab, ISD
Judit is a native of Spain. She obtained her BSc in biochemistry from the Autonomous University of Barcelona. After completing her bachelors degree, she worked for one year at the Center of Neurobiology of Hamburg University with Dr. Marina Mikhaylova in protein neuronal transport. Currently, she is a fast-track student in the Graduate School of Systemic Neuroscience (GSN) and after performing a research internship in PaquetLab on CRISPR/Cas9 genome editing she decided to join the ISD in October 2018 for a PhD project in neurovascular disorders co-supervised by Martin Dichgans and Dominik Paquet.
E-Mail: Judit.Gonzalez@med.uni-muenchen.de
Phone: +49 89 4400 46177
Liliana Pedro, GSN graduate student, collaboration with Simons Lab, DZNE
Liliana was born in Portugal. She received her BSc in Biochemistry (2011) and her MSc in Molecular Biotechnology (2013) from the University of Aveiro, Portugal. For her Master Thesis she worked to establish the role of trace elements in the structure and metabolism of connective tissues at the Medical Research Council in Cambridge, UK. After her Master, she remained in Cambridge working as a research assistant applying her expertise in the optical emission spectroscopy analysis of biological samples. In 2015 she joined Prof. Ulrike Gaul lab at the Gene Center in Munich investigating the blood brain barrier development in Drosophila melanogaster. At the moment she doing her PhD in Prof. Mikael Simons group, studying oligodendrocyte myelination in development and adults, in a collaborative project with the PaquetLab.
E-Mail: Liliana.Pedro-Domingues@dzne.de
Phone: +49 89 4400 46480
Joseph Kroeger, GSN graduate student, collaboration with Dichgans Lab, ISD
Joseph grew up in the U.S. state of North Carolina. He earned a BSc in mathematics and chemistry with minors in physics and philosophy from Wingate University. After graduating from Wingate University, he moved to Munich and became a master's student with the GSN. For his master's thesis, he is working on approaches to apply CRISPR/Cas genomic editing to investigate the role of stroke-associated genes in iPSC-derived models.
E-Mail: Joseph.Kroeger@med.uni-muenchen.de
Phone: +49 89 4400 46224
Marvin Reich, GSN graduate student, collaboration with Haass Lab, DZNE
Marvin grew up near Tübingen in Germany. He obtained both his BSc and his MSc in Life Science at the University of Konstanz. During his master's, he spent one year at Uppsala University in Sweden on an Erasmus scholarship focusing on biotechnology and protein biochemistry. He studied oxidative stress pathways in an in vitro model for Parkinson's disease as a research intern at Roche in Basel, Switzerland before he worked on the embryonal development of neuronal signaling using murine cortical organoids in the group of Andreas Hierlemann at ETH Zurich. During his master's thesis, he developed a microglia differentiation protocol from iPSCs for drug screening purposes and the investigation of TREM2 biology at Roche in Basel. For his PhD, he joined the lab of Christian Haass in March 2020 to study microglial phenotypes and cellular interaction in the context of frontotemporal dementia. In collaboration with the PaquetLab, he will employ CRISPR/Cas genomic editing and iPSC differentiation into neural cell types as a system to model and investigate frontotemporal dementia.
E-Mail: Marvin.Reich@mail03.med.uni-muenchen.de
Phone: +49-89 4400-46539
Sophie Robinson, GSN graduate student, collaboration with Haass Lab, DZNE
Sophie is from the Bay Area in California, USA. She received her BSc in Psychology and Biological Sciences from Carnegie Mellon University. In high school, she had internships at Stanford University with Dr. Tony Wyss-Coray studying AD. During her Bachelor's, she worked with Dr. Stephen Strittmatter at Yale University investigating a Fyn kinase inhibitor as a potential treatment in AD mouse models, which has subsequently made it into clinical trials. After graduating from college, she worked in a cancer immunotherapy lab under Dr. Ron Levy at Stanford University and in clinical operations at Roche Genentech. Sophie is a GSN Fast-Track student and started a rotation at the PaquetLab in February 2019. She is interested in studying microglia in homeostatic and disease-associated states, co-supervised by Christian Haass and Dominik Paquet.
E-Mail: Sophie.Robinson@med.uni-muenchen.de
Phone: +49 89 4400 46225
Carolina Cardoso Goncalves, GSN graduate student
Carolina grew up in a small town near Coimbra, Portugal. She obtained her BSc in Biochemistry and her MSc in Cellular and Molecular Biology from the University of Coimbra, Portugal. During her studies she did internships at Centre Hospitalier Universitaire Vaudois in Lausanne, Karolinska Institute in Stockholm and University of Lausanne. For her master´s thesis she joined the group of Prof. Paola Bezzi at the University of Lausanne, Switzerland, where she studied the mechanisms underlying the control of dopamine homeostasis in astrocytes from the prefrontal cortex. After her Masters she worked as a Junior Research Fellow investigating the role of astrocyte-induced neural microenvironment remodeling in neural 3D cell models at the Animal Cell Technology Unit of iBET and ITQB-NOVA in Lisbon, Portugal. Carolina joined the PaquetLab in September 2019 and is currently working on the development of dynamic 3D cell cultures to model AD.
E-Mail: Carolina.Cardoso@med.uni-muenchen.de
Phone: +49 89 4400 46222
Merle Bublitz, Master student
Merle grew up in Hannover, Germany, after which she moved to Iowa, USA, to become a student athlete at Morningside University and obtain her BSc in Biology and Mathematics. During her Bachelor's she worked with Dr. Chad Leugers investigating the role of tau protein and abnormal MAPK signaling pathways in Alzheimer's disease. She also spent one semester at Griffith University in Australia with a focus on computational biology. In 2019, Merle became a master's student with the GSN. After a research internship with Prof. David Franklin, where she investigated the impact of positive reinforcement learning in dual adaptation, she joined the PaquetLab for a research internship in October 2020. For her master's thesis she is studying CRISPR/Cas9-edited iPSCs as a model system for AD.
E-Mail: Merle.Bublitz@med.uni-muenchen.de
Phone: +49 89 4400 46226
Jennifer Sandrina Yilmaz, Lab manager
Jenny was born in Rosenheim, Germany. She graduated in 2015 as a chemistry lab technician and worked as a laboratory lubricant assistant for several years. After travelling for one year, she wanted to change to the clinical field and joined the PaquetLab in October 2019, where she supports the team in a variety of ways in organizing and structuring the laboratory and actively participates in stem cell differentiation and molecular biological methods.
E-Mail: Jennifer.Chmiel@med.uni-muenchen.de
Phone: +49 89 4400 46026
Patricia Yuste, Postdoc, collaboration with Hartl Lab, MPI Munich
Patricia is from Spain. She obtained her BSc and MSc from Autonomous University of Madrid. For her PhD she worked on the characterization of disease causing mutations and the development of genetic and pharmacological therapies for rare metabolic diseases at Center for Molecular Biology "Severo Ochoa" (CBMSO) in Dr. Belén Pérez laboratory. During that period, she did two international research internships at Rice University in Houston with Dr. Laura Segatori and at Bergen University in Norway with Dr. Aurora Martinez. Since 2016 she is a postdoc in Prof. Dr. F. Ulrich Hartl's laboratory at the Max Planck Institute of Biochemistry in Munich, where she is working on understanding the basic mechanisms underlying trans-cellular propagation of aggregates in neurodegenerative diseases. Patricia joined the PaquetLab in May 2021 to work on a collaborative Synergy Tandem project to develop complex cellular models of Tauopathy to study the influence of the extracellular compartment on disease using CRISPR/Cas9-edited iPSC-derived brain cells.
E-Mail: Patricia.Yuste@med.uni-muenchen.de
Phone: +49 89 4400 46247
Melanie Falke, Master student
Melanie grew up in southern bavaria near the alps. She is studying Pharmaceutical Sciences (M.sc.) and Pharmacy (state examination) at the LMU munich. She received her Bachelor´s degree in the lab of Prof. Dr. Biel, who specializes on HCN ion channels in the brain. During her Master, she joined the lab of Prof. Dr. Heppner at the Charité in Berlin, where she investigated the role of the autophagic protein beclin1 on AD. For her Master´s thesis, she joined the Paquet lab in collaboration with the Haass lab in April 2022. She is establishing a human stem cell derived in vitro model of FTLD-TDP using CRISPR Cas12a.
E-Mail: Melanie.Falke@med.uni-muenchen.de
Phone: +49 89 4400 46225
Bérenice Horlacher, master student
Isabel Weisheit, GSN graduate student
Annika Wagener, Master student
Katja Salbaum, master student
Samantha Ho, Undergraduate researcher
Ioanna Emmanouilidis, GSN undergraduate researcher, ISD
Andrea Stüven, Team Assistant
Sarah Hübner, Undergraduate researcher
Johannes Heim, Undergraduate researcher
I have a long-standing interest in elucidating the molecular mechanisms leading to degeneration of the human brain in Alzheimer's disease (AD), frontotemporal dementia (FTD), stroke and related neurodegenerative and neurovascular disorders. One of the major research goals of my lab is to develop model systems that recapitulate central features of human disease and apply these models to investigate the molecular players leading to malfunction and demise of neurons. I started my scientific career as a graduate student with Christian Haass at LMU Munich, where I developed the first transgenic zebrafish model of AD and FTD that showed neurodegeneration and protein aggregation. I a follow-up study with Thomas Misgeld at TU Munich we performed the first in vivo imaging of axonal transport, a cellular pathway involved in disease progression, in an intact vertebrate animal. Both studies opened the field for human disease modelling in transgenic zebrafish, served as models for several subsequent studies in other labs, were highly cited (Publications in JCI and J Neuroscience), and received several research awards.
After focusing on animal models during my PhD, I moved closer to the human patient during my Postdoc with Marc Tessier-Lavigne at The Rockefeller University in NYC. There, I developed induced pluripotent stem cell (iPSC) based models of Alzheimer's disease (AD) and Tauopathies in collaboration with scientists at the New York Stem Cell Foundation. At this point, first studies had described the use of patient iPSCs for AD disease modelling, but there was no technology available allowing efficient genetic access, to introduce or correct mutations. I developed robust techniques for genome editing of iPSCs using CRISPR/Cas9 and demonstrated for the first time the formation of disease-relevant, zygosity-dependent phenotypes by knock-in two early-onset AD mutations (Publications in Nature and Nature Protocols).
Based on this work, my lab at ISD Munich is now focussing on building advanced human in vitro model systems recapitulating neurodegenerative and neurovascular diseases using iPSCs and genome editing with CRISPR/Cas9.
Scientific vita | Dominik Paquet
2011 – 2016 Postdoctoral Fellow, Laboratory for Brain Development and Repair, The Rockefeller University, New York, USA; Mentor: Marc Tessier-Lavigne
2009 – 2011 Postdoctoral Fellow, German Center for Neurodegenerative Diseases (DZNE), Munich, Germany; Mentors: Thomas Misgeld, Christian Haass
2005 – 2009 PhD Thesis (summa cum laude), Department of Biochemistry, Adolf-Butenandt-Institute, Ludwig-Maximilians University (LMU), Munich, Germany; Mentor: Christian Haass
2004 – 2005 Diploma Thesis, MRC Centre for Developmental Genetics, University of Sheffield, United Kingdom; Mentor: Henry Roehl
1999 – 2004 Studies of Biology (summa cum laude), University of Tuebingen, Germany
Fellowships
• Druckenmiller Postdoctoral Fellowship, The New York Stem Cell Foundation
• Postdoctoral Fellowship, German Academy of Sciences Leopoldina
• PhD-Fellowship, Universität Bayern e.V. (Graduiertenförderung nach dem Bayerischen Eliteförderungsgesetz)
• Diploma Thesis Fellowship, German academic exchange service (DAAD)
• Diploma Thesis Fellowship, Department of Biomedical Sciences, University of Sheffield, UK
Awards
• Best poster award, The New York Stem Cell Foundation Innovators Retreat 2016
• Best talk award, The New York Stem Cell Foundation Innovators Retreat 2015
• Award for 'Intelligible Science', Helmholtz Zentrum Geesthacht, 2010
• Finalist at Deutscher Studienpreis 2010, Körber-Stiftung, 2010
• Best talk award, Interact-Meeting Munich 2009
• International Leda-Hanin-Award of the Cornelli Foundation, AD/PD-Meeting 2009
• International Verum Award of the Verum Foundation, 2009
• 1st Young Investigator Award of the Universität Bayern e.V., 2008
• Travel award, The Lindau Nobel Laureate Meeting, 2007
Gel area and confocal microscope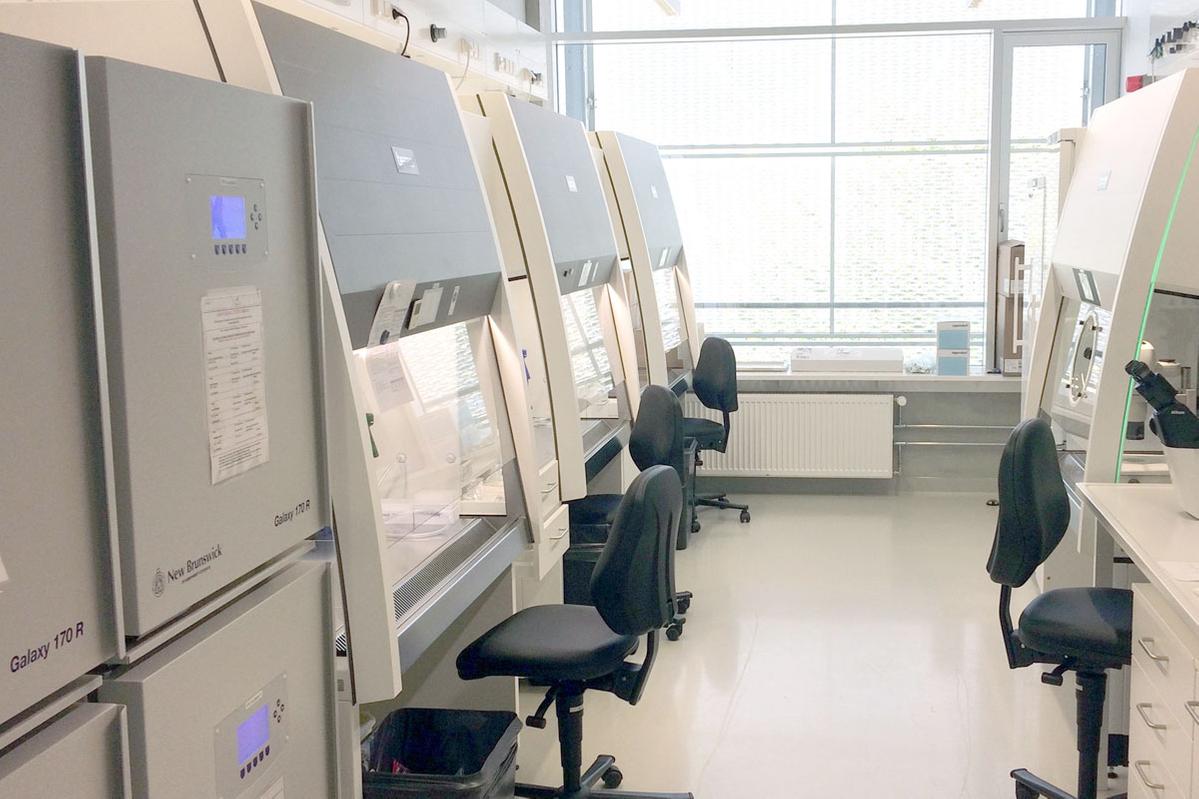 The PaquetLab gratefully acknowledges research funding by: