Steffen Tiedt – Molecular Biomarkers – From Omics to Mechanisms
We aim to identify circulating signatures that inform on the local and systemic effects of stroke and to explore the underlying molecular and pathophysiological mechanisms. Events in most organs including the local and systemic events (e.g. stress) related to acute stroke are captured by the circulating proteome and metabolome. In a bedside-to-bench-approach we apply profiling technologies on human samples to identify differentially regulated molecules and study their functional role in vitro and in vivo using experimental stroke models, transgenic animal models, different imaging modalities, and a broad range of biomolecular tools.
Our work is motivated by the heterogeneity of ischemic stroke, which poses a challenge for assigning patients to optimal treatment strategies and is a major reason for the large number of failed clinical trials. Current diagnostic algorithms are insufficient to capture both the mechanisms leading to and following stroke. The number of circulating proteins (3.500) and metabolites (25.000) exceeds the number of proteins and metabolites currently assessed in clinical practice (≈ 20) by several orders of magnitude thus illustrating the potential of profiling studies to inform beyond established diagnostic algorithms. Our ultimate goal is to implement meaningful circulating biomarkers in clinical stroke care.
To achieve this, we have recruited more than 2,000 patients with acute stroke or stroke-like diseases into our CIRCULAting biomarkers after Stroke (CIRCULAS) study, which focuses on early and serial biosampling in the acute phase of stroke. In a precision medicine approach combining deep clinical phenotyping with profiling technologies such as RNA sequencing, proteomics, and metabolomics as well as ultrasensitive single-molecule and point-of-care technologies we have identified novel markers for stroke on different molecular levels.
Contact: Steffen Tiedt, MD PhD
Tel: +49-89-4400-46171
E-Mail: steffen.tiedt@med.uni-muenchen.de
Vanessa Granja Burbano, PhD student
Originally from Ecuador, I obtained my BSc degree in Biology at Cayetano Heredia University in Peru and worked as a research assistant at the Department of Neurobiology, Genetics and Biochemistry. In 2016, I moved to Germany to pursue a MSc degree in Experimental and Clinical Neuroscience at the University of Regensburg. My master thesis was focused on the analysis of mitochondrial dysfunction in induced neurons obtained from patients with Major Depressive Disorder. Obtaining a DAAD scholarship from the iPUR program, I was able to work at the University of Regensburg as guest researcher with Dr. Oliver Bosch. My main research interests include neurodegenerative, cardiovascular, and age-related diseases. I have joined the Tiedt Lab at the ISD in 2020 as a PhD student at the Graduate School of Systemic Neurosciences (GSN). Primary focus of my work is to investigate the impact of the circadian rhythm on stroke. Outside the lab, I enjoy dancing salsa, reading tons of books and hiking.
Teresa Wölfer, MD student
Originally coming from Berlin I moved to Munich to start my medical studies in 2016. Very soon I developed a strong interest in Neurology which led me to pursue an experimental MD thesis at the Tiedt Lab at ISD to really get a deeper understanding of stroke research. While focusing my work on circulating biomarkers of ischemic stroke, I strive to gain insight into the methods and workflow of neuroscience research. Also having a keen interest in History and Philosophy I began my bachelor studies at the LMU in 2019. Outside the lab I like to visit the Alps (a new passion of mine), enjoy making some pottery or ride my bike through Munich's parks.
Michael Karg, MD student
Born and raised in Munich I am, as we say, a "Münchner Kindl". After I passed my A-levels in 2016, I started my medical studies at the LMU in Munich in the following semester (16/17). Since 2018 I am glad to call Dr. Konstantinos Dimitriadis (senior physician in neurology at LMU) my mentor. I am very thankful for the mentorship, which allowed me to gain a deeper understanding in the field of neurology and the scientific research which is done at the ISD. In October 2018, I started my own research under the leadership of Dr. Steffen Tiedt. My subject is the the prevalence of systemic complications and prediction of thrombectomy success, interventional complications, and functional outcome after thrombectomy. Besides from my passion for medicine and its research, I am a big fan of intercultural exchanges in Europe and the whole world, which is why I speak four languages and of course I support the world's best soccer club FC Bayern München.
Julia Knogler
After training as a lab technician at the Max Planck Institute of Biochemistry I worked in the lab of Marc Schmidt-Supprian, first at the MPI and then at Klinikum rechts der Isar. 12 years later it was time to do something different and I am very happy to be able to join the Tiedt lab. I will be taking care of general organisation and supporting the scientists wherever I can. In my free time I like to read, play with my cats and go on long walks.​

Linjie Zhang

Originally coming from Henan province of China, I started my medical studies in 2012. And in 2021, I finished my master's degree with the thesis 'Dynamic changes of inflammatory CD4+T cytokines in patients with acute ischemic stroke'. I have already worked in neurology department as a resident doctor for one year, and with the understanding of ischemic stroke, I found I have a great passion for biomarkers of ischemic stroke. I am so lucky to be one of the members at Tiedt Lab to further explore the mechanism of biomarkers of ischemic stroke. Outside the lab, I like hiking and yoga most. But recently I am trying to learn to dance Jazz.

Naomi Vlegels

With a fascination for the (dys)functioning of the brain, I obtained my Master's degree in Neuroscience and Cognition at Utrecht University. Following my graduation in 2017 I pursued my PhD under supervision of Prof. Dr. Geert Jan Biessels at the University Medical Center Utrecht. My PhD focused on the microstructural integrity of the white matter in Alzheimer's disease and small vessel disease with the goal to better understand brain injury and cognitive decline in these conditions. During my PhD I got interested by systemic effects of brain injury and I am therefore happy to have joined the Tiedt lab in September 2022 as a Postdoc. Here I will study metabolomic changes after stroke. Outside of work I enjoy taking long walks on the beach, reading books and to meet family and friends. ​

Yasin Eshraghi

Originally from Iran, I earned my bachelor's and master's degrees in biotechnology and medical biotechnology, respectively. While pursuing my master's degree, I became increasingly absorbed in the field of systems biology as well as the analysis of big data, which led me to implement proteomics data analysis in my master's thesis on kidney illness. I joined the Tiedt lab in September 2022 to follow up on my Ph.D. In this journey, I will focus on deciphering the underlying mechanisms of thrombus propagation via Proteome profiling with a holistic insight. Traveling, listening to music, and playing sports are some of the things I enjoy outside of the lab.

Shoshannah Amsellem, MD Student
Originally from France, I moved to Germany in 2014 and started to study medicine at the Ludwig-Maximilians-University in Munich in 2017. I have always been interested in the complex functioning of the human body and have developed an interest in Neuroscience throughout my studies. In August 2022 I joined the AG Tiedt as an MD Student and I am grateful to be able to contribute to the stroke research. During my free time outside of the ISD I enjoy singing, playing guitar and reading.

Orsalia-Zoi Veloudiou, MD Student

During my studies at the School of Medicine in Athens, Greece I developed a connection to patient brain pathology and interdisciplinary collaboration. In 2021, I completed a practical-year exchange at the LMU Klinikum and after my graduation in Greece, I moved back to Munich to chart a path that bridges clinical neurology with biomedical neuroscience. Inspired by the concept of circadian rhythm dysregulation, I joined the Tiedt lab in March 2023 to conduct an MD thesis on the role of the core circadian clock genes in the progression of ischemic stroke both at a clinical and experimental level. Except for the lab work, I'm also excited to discover the hidden gems in Munich.
Walter Viegener, Master Student
I obtained my BSc degree in Biology and currently finish my MSc in Biochemistry at the LMU. My interests in computer science and bioinformatics grew during my master's studies. After developing a tool for the proteomic data analysis program Perseus, I joined the Tiedt lab for my master thesis. During this project, I will focus on developing a machine learning approach that predicts the cellular composition of stroke thrombi. Outside of the lab, I enjoy swimming and climbing.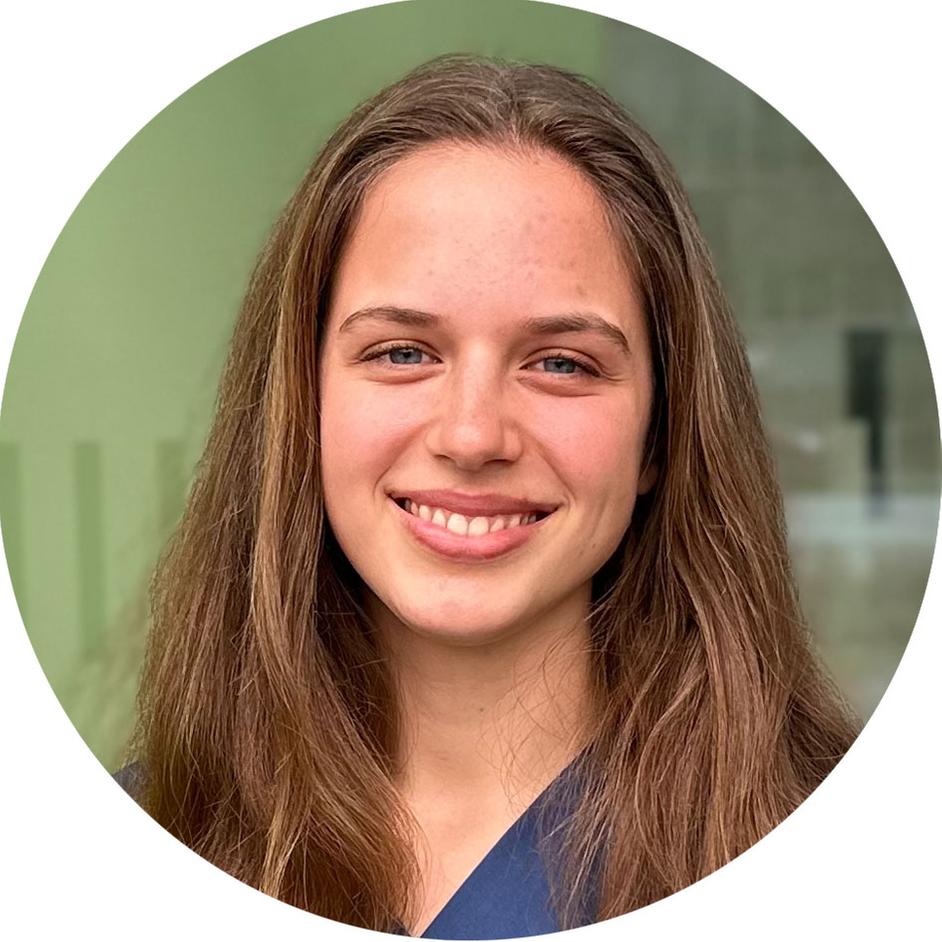 Eunice Holbura, MD Student

I am originally from Austria and moved to Munich for my medical studies at the LMU in 2019. I've always had a great interest in the human body and its complexity. In February 2023 I joined AG Tiedt, which not only enables me to get a greater insight in the field of Neuroscience, but also allows me to gain experience in the clinical part of stroke research. In my free time I enjoy swimming and drawing.
Nicoló Luca Knuth, MD Student
Originally from Darmstadt, I moved to Munich in 2020 to study medicine at Ludwig-Maximilians-University. After my first state exam in 2022, I continued my medical studies at Technical University of Munich and fortunately came across Tiedt Lab while looking for an experimental MD program. In my project I am examining molecular biomarkers for cerebral injury due to stroke in collaboration with Kaj Blennow's group at the University of Gothenburg, Sweden. In my free time I play field hockey professionally and depending on the season I like to go surfing or skiing.
Previous members:
Melanie Kaufmann, MD student
Charlotte Forster, MD student
Nada Khalifeh, MD student
Evan Hunter Stanton, PhD student
Nina Meißner, MD student
Julian Angermeier, MD student
Julia Böck, MD student
Sabrine Helm, MD student
Veronika Kautzky, MD student
Asli Gizem Kaya, MD student
Hanna Kollmeyer, MD student
Johanna Dietz, MD student
Sonja Ametsbichler, MD student

My scientific goal is to identify meaningful circulating signatures that inform on pathophysiological mechanisms after stroke and can be utilized as diagnostic instruments. Implementing these in clinical routine I envision stroke care to be more comprehensive and precise.
I studied medicine at LMU and Harvard. Intrigued by courses on neurophysiology, I conducted my MD thesis with Magdalena Götz exploring the role of STAT-signaling on the neurogenic potential of reactive astrocytes. In 2013, I joined the group of Martin Dichgans at the ISD as a clinician-scientist conducting a joint program: a PhD in Neuroscience at the Graduate School of Systemic Neuroscience and residency in Clinical Neurology. During my PhD I initiated the CIRCULAting biomarkers after Stroke (CIRCULAS) study, which by now is the largest study world-wide with early and serial blood sampling in acute stroke patients (N>2,000). Utilizing this resource, we were the first to employ RNA sequencing for the identification of circulating miRNAs associated with stroke and to apply single-molecule array (SimoaTM) technology during the course of stroke (publications in Circulation Research and Neurology).
Based on this work, my lab now utilizes profiling, ultrasensitive single-molecule, and point-of-care technologies to identify meaningful signatures to improve stroke care and explores underlying molecular and pathophysiological mechanisms in experimental settings.
PhD in Neuroscience (Title: "The role of blood-based biomarkers in ischemic stroke") at the Graduate School of Systemic Neurosciences and Institute for Stroke and Dementia Research, LMU (Prof. Dr. M. Dichgans)
MD thesis (Title: "Regeneration of neurons after brain injury: role of the STAT-signaling pathway in the inhibition of neurogenesis of reactive astrocytes") at the Institute of Physiology, LMU (Prof. Dr. M. Götz; Summa cum laude)
Board certification Neurology
Residency in Neurology at the Institute for Stroke and Dementia Research (Prof. Dr. M. Dichgans) and Department of Neurology, LMU (Prof. Dr. M. Dieterich)
Medical studies at the LMU Munich & Harvard Medical School (MA, USA)
Young group leader award – Corona-Stiftung
Mentor of the Year (Medical faculty, LMU)
Clinician-Scientist-Program PRIME (DFG, LMU)
Young Investigator Award (European Stroke Organization)
MOMENTE-Program for outstanding postdoctoral researchers (LMU)
Clinician-Scientist-Program (Cluster of Excellence SyNergy)
Individual research scholarship (Josef-Hackl-Foundation)
Program for excellent medical students (MeCuM-StEP, LMU)
Welcome to Orsalia and Nicoló!
April 2023 – We are pleased to announce that our lab has two new members who have joined us as MD students. Orsalia comes from Greece, has finished her medical studies at the University of Athens, and will work on circadian mechanisms in stroke. Nicolò studies medicine at the LMU and will investigate, in close collaboration with Kaj Blennow and Thomas Karikari at the University of Gothenburg, the temporal profile of molecular markers of neuronal injury after stroke. Have both a great start!
April 2023 – Very excited and proud that one of our PhD Students, Vanessa, recently attended the Early Career Scientist meeting of our Leducq network. Vanessa presented her data on circadian mechanisms after stroke and we are proud that Vanessa represented the ISD in Boston.
April 2023 – We are grateful to be have contributed to a study published in SCIENCE . This study, led by colleagues from the LMU cardiology department, identified specific proteins that are down-regulated during periods of prolonged immobility and protect from thrombosis.
April 2023 – Our study on the value of plasma CGRP levels for assessing collateral flow in patients with stroke is online in STROKE – In collaboration with colleagues from UCLA, we analyzed whether plasma levels of CGRP, one of the most potent vasodilators, can be utilized for assessing collateral flow in settings settings where advanced imaging is not available.
January 2023 – New year, new recruit! Walter joins us for his Master thesis investigating the cellular composition of stroke thrombi in relation to proteomic data. We are lucky to have you, welcome!
December 2022 – Our study on differences between RCT and real-world cohorts was published in the European Stroke Journal ! In collaboration with the UKE Hamburg, we find that differences in patient characteristics drive associations with outcome after endovascular treatment.
Annual conference of German neurologists in Berlin (DGN-Kongress)
November 2022 –Together with Prof. Christine Klein, the previous president of the DGN, Steffen chaired a session on precision medicine in neurology. We were fortunate to have an excellent line-up of speakers including Götz Thomalla, Ghazaleh Tabatabai, Jan Baumbach, Märit Jensen, Daniel Merk and Luisa Delazer, which led to excellent discussions on the future of neurological precision medicine in Germany.
First in-person Meeting of our Leducq network in Oxford
September 2022 – Teresa, Vanessa and Steffen met collaborators from Oxford, Madrid, Harvard, UCLA, and Stanford from our Leducq network on Circadian effects in Stroke at Oxford University. Excellently organized by Alastair Buchan and his team, we had wonderful three days to discuss science, plan collaborations and get to know each other.
Welcome to Naomi and Julia!
September 2022 – We are very pleased to welcome Naomi and Julia to our team. Naomi joins us as a Postdoc and investigate brain-body interactions after stroke using multi-omic datasets. She conducted her PhD with Geert Jan Biessels at UMC Utrecht. Julia joins us as our new lab manager. She has extensive expertise in numerous experimental methods and has previously worked at the Max Planck Institute and the Technical University Munich. We are very happy for them to join us. Have both a great start!
Excellent Paper in Neuroscience Award by ERA-NET NEURON
July 2022 – We are proud to share that our work on the diagnostic utility of circulating metabolites after stroke won the Excellent Paper in Neuroscience Award by ERA-NET Neuron 2021. In our paper (Annals of Neurology, 2020), we identify, validate, and replicate a set of four circulating metabolites that shows unprecedented utility and outperforms neuroimaging in identifying patients with stroke upon hospital arrival.
We gratefully acknowledge funding by the following funding agencies:
Precision Medicine in Stroke (PREMISE): integrating deep phenotyping from 1000 stroke patientes and experimental stroke models
Excellence program for research and funding (FöFoLe, LMU)
Friedrich-Baur-Stiftung (LMU)
Clinician Scientist PRogram In Vascular MEdicine: PRIME
We are grateful to collaborate on our current projects with leading institutions around the world

University of California (UCLA)
Universidad Complutense de Madrid – CNIC